Tons of trucks and construction equipment for all ages to explore!
123 East Livingston Street, Orlando
9:00 am to 1:00 pm
(9:00 am-10:00 am Sensory Sensitive)
Follow us at Facebook.com/OrlandoTouchaTruck for udpates on trucks, vendors and entertainment!
Entry into the event is $5 per person and is free for children

under

2 years old!
Food vendors, shopping vendors, local businesses, activities and more.
Tours of Trinity Lutheran School – Infants through Eighth Grade
Tours of Trinity's Historic Sanctuary
The first 300 kids receive a free die-cast car or truck with paid admission!
This event will be held rain or shine!
The first hour of the event is "sensory sensitive" horns-free for our little ones with sensitivity to loud noises, and the remainder of the day will be full of honking horns as kids explore the vehicles on campus.
Parking is available just South of Trinity Downtown in the parking garage. Enter the garage from Ridgewood Street.
Food and drinks will be available for purchase.
This event is sponsored by Trinity Lutheran School's Parent Teacher League. All proceeds from this event will benefit Trinity Lutheran School.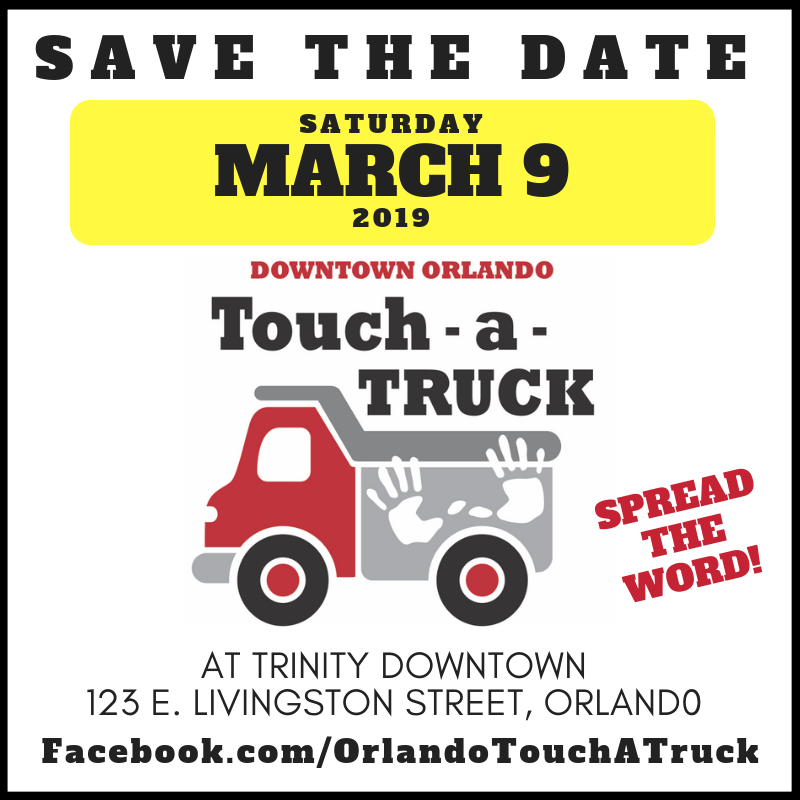 Sponsorship Opportunities
Circus/Dog Show $ 350.00
Raising Cadence Band $ 250.00
Popcorn/Cotton Candy $ 100.00
Hot Wheels $ 100.00
Game Truck – Art of Gaming $ 500.00
Jr. Sports Game Arena $ 200.00
Face Painting $ 300.00
Marketing/Flyers $ 150.00
You may sponsor the entire amount or just a portion. You can donate as an individual, family, business or several families can sponsor together. If you would like to help with any of the above sponsor opportunities, please email our PTL Board at PTL@trinitydowntown.com, or bring your donation to Trinity Lutheran Church's front office at 123 E. Livingston Street, Orlando, FL 32801.   Note: Sponsor names will be posted on the event webpage. THANK YOU!
The 2019 Downtown Orlando Touch-a-Truck community event will provide families the opportunity to learn about and explore trucks, construction vehicles, and public safety equipment. Each truck will have a driver present to answer questions, help kids sit in the truck, and let kids honk the horn. Bring your camera for lots of fun photos of your kids! Check out the photo gallery below.
Touch-A-Truck Registration Now Open for March 9, 2019
Bring a Company Vehicle
Trucks, cars, helicopters, hot air  balloons — if kids will love it, and it will fit on our campus, we need YOU!
Sponsorship Opportunties
Please include your sponsorship level choice on your vendor app or company vehicle sign up form.
Vendor Application
Shopping and information sharing at it's best!  Set up a table and tell us about your craft/ministry/business and share items for sale.  Family-friendly topics/vendors only.
Food Vendor
Family-friendly Food Truck vendors, please apply here!
What Our Guests & Vendors Are Saying
"We've been the last 2 years and we're planning on it this year also. Please come too!"
From an Orlando family
"We are TRULY looking forward to it!"
Truly Nolen
"We enjoyed every minute of it!  Thanks for having us."
Joe's Carwash LLC
"This is one of our favorite Orlando events of the year!"
From an Orlando family
Questions?
Contact us at TLC@TrinityDowntown.com