The event this year is a bit different - but for good reason! Trinity is beginning a new building phase and expanding our school ministry. This means that a construction fence is planned to divide the campus, including the field. So just for this year, we have scaled the BBQ down to be a fun family event with a Backyard Competition.
The fun is the same though!
Food
Enjoy awesome BBQ and other event favorites all day long. Kid's options too.
(You are welcome to visit the teams that are competing, but sample at your own risk there!)
We are providing awesome BBQ for sale (Green Coat Catering's Famous BBQ) and the People's Choice Taste Test will return next year.
Drink
The BBQ will once again feature a beer tent for 21+ to enjoy. (Don't forget your ID) The beer is free, but we ask you to drink responsibly.. we may be a cool church, but we are a church! The area will be run by one of our ministries - LiveUCF: A Ministry to UCF. They would love some donations - so bring some cash!
Music
The Brew Band is back playing your favorite tunes all afternoon. These guys always entertain!
Parking
The parking situation on campus will be tight over the next year during construction. So this year plan to park around the campus via street parking or the garage across Livingston St. Sometimes its free, sometimes they charge $5 - we have no control over it (trust us, we have tried!) We promise there is plenty of parking around the area, just watch the meters and street signs.
Questions? Don't hesitate to email Pastor Billy
BBrath@TrinityDowntown.com
The kids take over the gym this year as we merge the BBQ event with Trinity Lutheran School's "Read-In."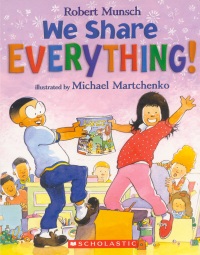 The gym will be filled with games and activities like you'd expect from our events at Trinity but with a special focus on the books of Robert Munsch. The Kid Zone team will be bringing his book "We Share Everything" to life through storytelling, crafts, activities, and games.
Plan to have a blast in the gym and around a few of our playgrounds - they will be open too!
Have questions about the Kid's Zone?
Email VPK2@TrinityDowntown.com
The competition is backyard style, Chicken & Pulled Pork only. Pros will be on hand to chat it up & prepare everyone for next year when we scale things back up to the full event. Enjoy an overnight cooking event on campus with family and friends!
Rules
We follow the Florida BBQ Association rules. Check them out by clicking here.
Prize Money
We take the entry fee ($50) and split it in half. Half goes to first place pork, the other to first place chicken. So the more teams that enter, the better the winnings. (Get lots of your buddies who can't cook to make some teams!)
Timeline
Teams are welcome to begin setting up on the field of Trinity at 5pm on February 28th. Your meat (chicken & pork) will be inspected at 7pm. Then the competition is on!
Pork must be turned in at noon for judging.
Chicken must be turned in at 1pm for judging.
Winners will be annouced at 3pm!
FYI
The People's Choice Taste Test will return next year. This means you are only preparing your own meat for the two meat categories. You are not expected to cook extra for the event. Green Coat Catering is providing all of the BBQ for sale this year. Next year we plan to have professional teams again (as space restraints are managed) and the People's Choice Taste Test will return. If you have any questions about the event changes this year please don't hesitate to contact Pastor Billy: Bbrath@TrinityDowntown.com
Questions? Don't hesitate to email Pastor Billy
BBrath@TrinityDowntown.com